Out with the old...
The Gilmore City Fire Department is made up of volunteers from the community. Currently there are 13 brave men who provide this great service to our community and the surrounding townships.
On June 13, 2010, Gilmore City kicked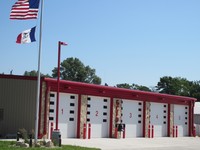 in with the new!
off their fundraising efforts for the new Fire & EMS Station which has been built at 111 SE C Ave. Any donations are welcome and greatly appreciated.
Schematic Drawing and Floor Plan available below: